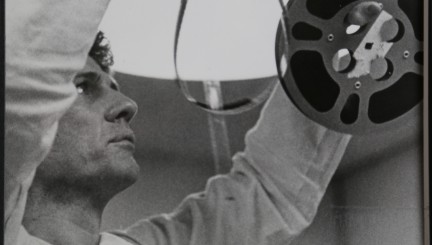 I'll take a break now from blogging about the festivals I've been attending, to tell you about a recent curatorial project that has become the most fulfilling of my career. For the past year, I've been working on the films and materials of James Blue, arguably the most important and influential artist to have practiced and taught film in Houston.
Walk into the Rice Media Center, and you will see a display case paying tribute to Blue, who was recruited by Gerald O'Grady and the De Menils as the Center's first director. Visit the website of the Southwest Alternate Media Project (SWAMP), and you'll learn that Houston's invaluable media arts center was co-founded 37 years ago, and remains deeply inspired, by James Blue. According to Mary Lampe, SWAMP's director, the organization's evocative name and apropos acronym was hit on by Blue and Rice film professor Brian Huberman (originally recruited by Blue), when they found, at the patent office, that the name "Southwest Media Project" was already taken. What about SWAMP's vital, long-running TV series for showcasing independent filmmakers, The Territory? Started and named by Blue, of course.
Blue's biography as a filmmaker and teacher is staggering, and includes winning the Cannes Critics Prize (for The Olive Trees of Justice), an Academy Award nomination for Best Documentary (A Few Notes on Our Food Problem), and a place in the National Film Registry (The March). He was beloved as a teacher by students ranging from Frances Ford Coppola to Jim Morrison, revered for his skill as an interviewer (over 75 recorded interviews of great directors, many published in Film Comment), and he accomplished all this before succumbing to cancer at 49 years old.

As a relatively recent arrival to the Houston film scene, striving to make Houston's great film culture even greater, I quickly learned in whose large footsteps I was walking. As Ed Hugetz, UH administrator and SWAMP's first director, wrote in Houston Breakthrough of Blue's pioneering film series at Rice:
The second thing that he did, which O'Grady had already started, was bring in filmmakers to talk about their films. I remember James said at the end of his first visit, "When I come back in the fall, I want to build a film culture; which means that we are not just going to be watching films, we are going to have to discuss them. We are going to create a group of people that are very concerned about the ideas that are being put forth in film." This was an idea that he got from France, where there were cine clubs all around the country. People used to meet there once a week to look at films and discuss them. He said there was no way we were ever going to have film in Houston unless there was a film culture, and the film series and discussions were the key to that.
The uncanny thing about this curatorial project is that it crosses over the two cities in which I program film festivals—Houston, Texas and Eugene, Oregon. Blue grew up in Portland and was an undergraduate and graduate student at the University of Oregon in Eugene. Yet he was forgotten to even the Cinema Studies faculty at UO until Portland writer Anne Richardson blogged about him in late 2012, after she learned about him from a well-known director who had been Blue's contemporary at UO in the late forties, James Ivory. Having myself been unaware of his Oregon roots, but well aware of his significance since coming to Houston, I organized a tribute to Blue for Eugene's Cinema Pacific film festival, which I also direct.
James Blue's brother Richard decided recently to form the James and Richard Blue Foundation and deposit the filmmaker's archive in the University of Oregon Special Collections Library. That archive, which had been stored and protected by Blue's devoted friend, Gerald O'Grady, for the 35 years since he died, is now being mined by the James Blue Project, a website I'm curating. If you have 11 minutes to spare, check out a short film on the archive and project, Discovering James Blue. Blue's films, including, I hope, his invaluable works on Houston' s housing crisis, Who Killed Fourth Ward? and The Invisible City, will be made accessible to everyone through this site.
Blue's magnificent essay film A Few Notes on Our Food Problem went up online this week. You can watch the complete film, and delve deeper into supplementary materials from the archive here.