Summer is in full swing and that has me thinking about our next big event – JULYDOSCOPE on Saturday, July 18, at Discovery Green. It is hard to believe that this year will be our fifth anniversary. I think the older I get the faster time flies. If you haven't attended the event in the past, I bet you are thinking that it is just too hot to be outdoors in mid-July. Well, Discovery Green must be a great location because as soon as the sun goes down past the skyline, it is wonderful – sometimes even a tad cool!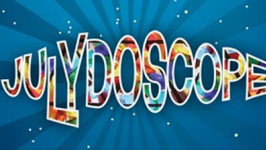 How did JULYDOSCOPE get its name?
When we first brainstormed about what type of programming we could do for the summer, we started thinking about how much fun it is to combine live performances and film in one evening. We do that during the Houston Cinema Arts Festival so why not stick with a winning combination.
We are especially fond of dance at HCAS and it seemed a natural to invite local dance companies to perform and follow with a film musical or film about music. Choosing from all of the wonderful dance talent in H-town proved to be difficult so we narrowed down our choices that first year by looking for a variety of styles and cultures to present – it became a kaleidoscope of the arts, dance, style, cultures, and film. Our great PR rep at On the Mark Communications, Mark Sullivan, suggested we play off the kaleidoscope idea and came up with JULYDOSCOPE! The name stuck, as did the approach to programming.
With help from collaborator Stephanie Todd Wong at Dance Source Houston, we have presented over 20 different companies since that first JULYDOSCOPE in 2011, representing modern, contemporary, ballet, Indian, Ballet Folklorico, hip-hop, Flamenco, African, Asian, and Greek dance. We love seeing the diversity of the dance reflected in the diversity of the audience. It really feels like Houston – like home to this native.
Films presented over the years include Xanadu, The Wiz, Hairspray (the original), and Twenty Feet From Stardom. This year Shake the Dust is sure to be a crowd pleaser. I can't wait to see the kids trying their hip-hop styles out as they get inspired. In fact, that is one of my favorite things about JULYDOSCOPE – the kids! From the littlest who inch closer and closer to the stage and try to emulate the dancers' moves to the teens who could probably give us their own show, it is a great pleasure to see them all getting inspired and enjoying a midsummer night in the park.
Did I mention that JULYDOSCOPE is also the same night as Flea by Night? Every third Saturday of the month Discovery Green gathers local vendors for an evening of shopping in the southeast corner of the park. From modern to vintage furniture to recycled and repurposed collectibles, there is something for everyone. It so fits our kaleidoscope theme. There will also be food trucks! I do love food trucks!
Come out and join us, you will be glad you did! And it's free! If you do, give us a shout out on Twitter, Facebook, Instagram, etc. by posting a photo of the event using #julydoscope. Every posting is an entry for a drawing for passes to Houston Cinema Arts Festival in November (must be present to win). There will also be a trivia contest between dance performances for more chances to win passes so study up on your hip-hop! More info at http://cinemartsociety.org/events/event/julydoscope-2015-2